5 Quirky Ways to Upgrade Your Bedroom Over The Weekend
Considering the time we spend at home, the bedroom is essentially our life. It is undoubtedly one of the most important spaces in our houses.
To have a dreamy, comfy bedroom with perfect accessories and ambience is not a crime. And you do not need to spend thousands of rupees behind it.
It is a common notion that any kind of renovating can cost you a lot. This is actually a myth if you know how and where to invest your money.
If you have been looking to redecorate or revamp your bedroom without wasting much time and money on it, we have the perfect solution for you.
These 5 budget friendly tips will quirk up your bedroom without much effort but visible results in just a day or two. Yes, you read that right!
1. Rearrange Your Frames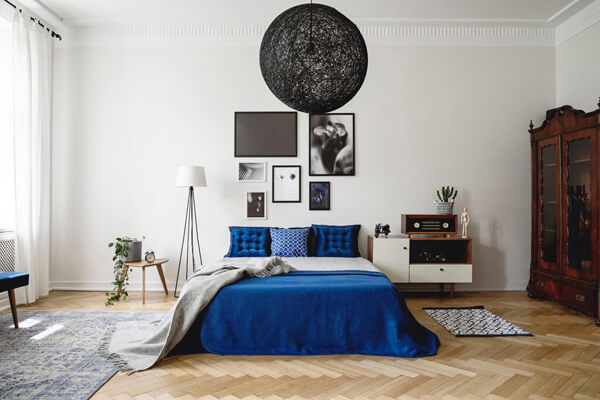 A slight change in the positioning of frames on your wall can make a huge difference in your room.
It is a very simple but effective technique to make your room feel new. If you have space, add new frames. You can easily buy affordable frames via e-commerce websites.
2. Add Tapestries or Headboards
Adding tapestries or headboards with funky colours and patterns lifts up the ambience of your bedroom.
If possible, go for textures as they add another dimension to the room. Make sure you consider the colour of your walls and furniture before you decide on the colour of your tapestry or headboard.
3. Change The Switches
If you have the same switches in your bedroom since the last time you did a major makeover, it is time to upgrade.
There are so many options to play with when it comes to switch cover plates!
For instance, you can opt for matte finish; install dimmers for added ambience or add designer switches on your walls! Vihan offers an extensive range of designer switches that add to the aesthetics of our room.
Also Check
4. Do Not Keep It Messy
This may sound boring, but cleaning your room (by cleaning we do not mean dusting) can make your room look bigger.
Get rid of extra pieces of furniture, or the stuff you have been storing under your bed.
Hide all the cords and wires from your study table.One of the ways to achieve this is by wrapping the extra length of the cord. This will give an illusion of a neater and bigger space.
5. Add Greenery
No, we are not talking about high-maintenance plants. There plenty of options that require minimum care and yet they do the trick for your space.
Adding plants bring the necessary freshness in the room. They are a great way to include a natural element in the room that makes the room lively.
Redecorating a room does not have to be a headache. And you do not require interior decorators to make small changes. A little thought behind your choices does wonders. All of these tips require at the maximum 2 days, even you plan to implement all of the above!