Vihan Modular Introduces a New Range of Modular Switches and Cover Plates for Indian Homes
In the era of ubiquitous changes in the interior design, Vihan has added a new range of Modular Switches that beautifully complement the modern Indian homes.
The Flato Modular Switches bring the needed aesthetic element in your room. Designed with precision and planning, these new Flato Modular Switches will enhance any and every type of décor.
Here's why the latest Flato supersedes other modular switches:
1. Design
Breaking the norms of conventional design, the Flato switches don a sleek and simple design. They are fashioned to suit all types of interiors- from simple to bold, from classy to jazzy.
2. Colour
The stunning white colour denotes sophistication and classiness. Being a universal colour, the switches will balance all the colours in your décor.
3. Mechanism
The Flato switches comprise of the revolutionary soft push feature, and 1 way, 2 way mechanisms. You also get the option of having an indicator in the switches.
Why should you opt for our latest cover plates?
The Aquo and FM Cover Plates boast a range of colours such as red, gold, white, velvet black, etc., finishes such as metallic, matte, wood and glossy, patterns and textures that suit all types of interiors and décor.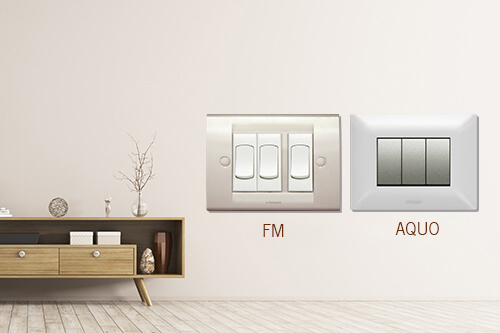 Conclusion
These exceptional features of Vihan Modular products make it stand apart from other switches. They will be an ideal match to your interiors.