August 31, 2019
Celebrating the Arrival of Lord Ganesha
Lord Ganesha is the most worshipped god in the Hindu religion. He is instated as the god of beginnings, knowledge, wisdom, intelligence, and eradicator of evils. Ganesh Chaturthi is a highly preferred and most popular festival of Hindus.
Ganesh Chaturthi
Ganesh Chaturthi marks the arrival of Lord Ganesha into the devotees lives. It is the first day of the 10-day festival and is a significant day for Hindus.
Following the Hindu calendar, the festival starts on the fourth day of the month Bhadrapada, which isgenerally in the months of August or September.
The celebrations are observed grandly over some parts of India. For instance, cities like Mumbai and Pune are known for the Ganpati celebrations throughout the world.
Festival Celebrations
To welcome Lord Ganesha, devoteesarrange colossal pandals (temporary shrines) to worship or bring clay idols of Ganesha in their homes.
Thesepandals are decorated days before the festival starts. During the festival, you will find streets lit with different lights, people praying all day long and having lots of sweets!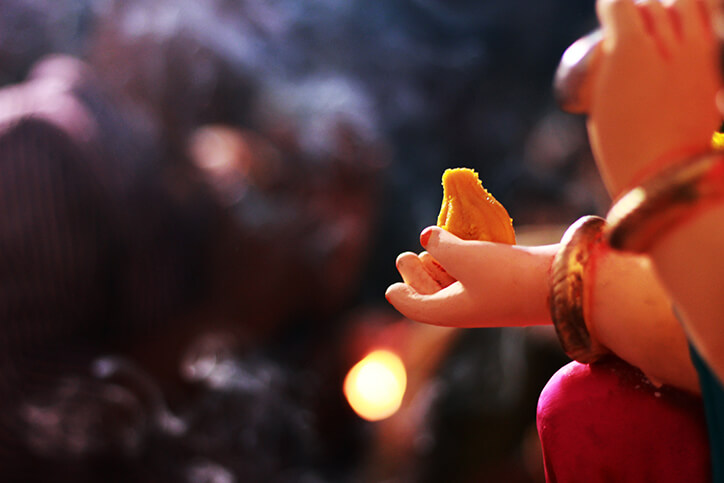 The famous modak is a sweet dish using jaggery and coconut. This was considered as Lord Ganesha'sfavourite treat and hence is a staple in these 10 days. People fast, pray and chant religious hymns to pray respect to Lord Ganesha.
The last day of the festival is called as AnantChaturdashi. On this day, the devotees carry the idol in a public procession with music and chants such as "GanpatiBappaMorya, MangalMoortiMorya" " which is to praise Lord Ganesha" and "GanpatiBappaMorya, PudhchyaVarshiLaukarYaa" which means that we await your presence in our lives next year.
The idol is then immersed in a nearby river or ocean with the belief that Lord Ganesha will eliminate all the problems from the devotees' lives.
Vihan Celebrates Ganesh Chaturthi in the city of Pune
With the faith and belief in Lord Vinayak, we are bringing Lord Ganesha into our lives by decorating the entrance of major pandals in Pune city. The festival is celebrated with high-spirit and enthusiasm. More than often, the overcrowding in the pandalscreates a sense of panic. To ensure safety of the devotees, it is essential that they know entry and exit points. Hence, Vihan is proud to contribute to the society in this simple but important way.
With the hope that Lord Ganesha brings happiness and success for all, Vihan wishes a very Happy Ganesh Chaturthi to everyone!